Google have introduced +1 in March, but the changes including Google+ were only released today. The recent development only confirmed the rumours that Google have been working on their own social network. But it's much more than just another social networking tool and the changes will have significant implications for businesses.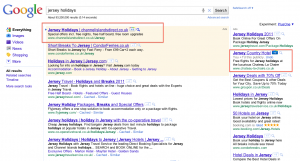 Here are some of my thoughts on how these changes will impact businesses and not only those based in Jersey.
1) Businesses will need to be more social. 99% of businesses are already on Google and have their content regularly indexed by spiders, so now, like it or not, your website is part of the Google+ social network and any user can recommend your brand to their friends.
2) Alternative to business pages on Facebook – creating a business page on Facebook is a big 'NO' for many companies. But expanding your presence on Google will be less controversial, as most website content is already indexed by Google.
3) Website becoming even more important. Google+ and +1 fill the gap between websites and social networks. Improving users' experience on your website could earn you personal recommendations and subsequently accelerate your marketing efforts.
4) Higher rankings on search engines (SEO implications) – Google will use +1 as social signals, just like external links in the past, but could be more important because they come from humans rather than websites. This could improve your organic search results.
5) Improved CTR and conversions from your PPC ads. Advertising on Google could earn you social points +1s, personalised annotations that appear on ads after they've been +1'd should increase your ad performance.
ACTIONS
1 – Add +1 button to your website to encourage your website visitors to share your content.
2 – Create useful content. Review your website, add new pages, tools, video to encourage users to share.
3 – Advertise on Google. PPC ads could offer you a very cost effective way of earning personal recommendations, which will improve your performance on Google. As a business owner this is something you just can't ignore.