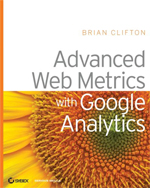 "Advanced Web Metrics with Google Analytics" by Brian Clifton is the first and only comprehensive Google Analytics manual. Brian Clifton is web analytics expert who worked at Google helping to develop Google Analytics for more than 2.5 years. There is probably not many people in the world who know more about the product. So when I ordered Advanced Web Metrics I expected a lot of useful hacks rather than boring interface/reporting explanation.
I use Google Analytics everyday and this book answered many questions that have been nagging at the back of my mind for months. If you are wondering what's the best practice for tracking video or visits from image search with Google Analytics this book is definitely for you.
Here's my top 5 of the Advanced Web Metrics
– powerful hacks and great examples
– 10 recommendations for web analytics accuracy
– 'virtual pageviews' for tracking transactions on non e-commerce sites
– using exitTracker to capture clicks on banners and other outgoing links
– changing referrer credited for conversion
Even though I've used Google Analytics a lot I didn't know that GA keeps data for a minimum of 25 months and that the penultimate referrer gets credit from direct traffic transactions.
So just to sum up, it's a great book for everyone who works with Google Analytics. Please bare in mind though that you need to have HTML/JavaScript knowledge to get the most out of the examples/hacks.
More about Advanced Web Metrics with Google Analytics
– Marshall Sponder Review
– Official book launch on Brian Clifton's blog